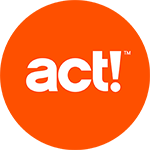 As an Act! Channel Partner that has been Act! certified since 2002, we assist sales and marketing teams who are struggling with their efforts to centralize contact data. We work with you to develop a customized system to enable benefits such as tracking your sales and marketing efforts, creating reports, sharing data, remote access to your database and much more.
We do this by taking the time to learn your business and how your day to day processes affect your bottom line.
There are a number of differentiators between DataMasters, Inc. and other CRM consultants. First, we are not pushy sales people. We believe in open and honest communication and will put in the time to get to know you and your company before you even commit to working with us.
Second, we know our stuff. With more than 15 years experience with Act! contact manager CRM systems, we can develop, implement and train you on a new customized system that will work for you.
Third, we are fair. We are not going to nickel and dime you. We don't bill you for time we spend researching your questions or issues, or for lunch breaks. You only pay for actual time spent directly on your project.
Finally, we don't leave you when the project ends. We work hard to build a relationship with you that will continue even after the project is completed. We can help you in the future with upgrades or new customization as your business grow.